When you sacrifice too much in a relationship
How do we determine what a normal amount of sacrifice might be?
My impression of most relationships: One partner is more likely to sacrifice in order to hold things together. The risk is that he or she will resent what is given up, and resentment will grow toxic. So how do we determine what a normal amount of sacrifice might be – so the relationship stays healthy?
In my marriage, it was expected that I bring home a hefty income, that I take care of the house, that I manage the kids – though weekends were something of an exception.
As my spouse traveled during the week, my only shot for an hour of quiet time was if he entertained our boys in the backyard, which they all enjoyed.
Still, the inequities were glaring.
He didn't sacrifice his social time with friends, he didn't sacrifice his guy weekends, he didn't sacrifice his sleep or his savings or his ambitions. On the other hand, I gave up everything on that list to a large degree. Hey, I'm an adult. It was my choice, right?
Eventually, our marriage fell apart. The reasons are many and complex; the ongoing imbalance was just a piece of the picture.
Decision-Making in Marriage
As for more significant issues of sacrifice, when the subject of moving to suit his career came up – however disruptive to my support network, to my health, to my career, to the kids… it was "my way or the highway," never an effective negotiating position. That is one example of the dynamic between us that was not indicative of a healthy relationship.
As for what I was willing (or able) to give up at various points in time, my decision-making process would involve asking myself questions. Among them:
What's best for the family?
What's best for me?
What are the impacts if all goes well?
If this doesn't work out, can I regroup and recoup?
Would he make the same sacrifice for me?
I hesitate to admit this, but I imagine some of the less desirable responses will be a familiar theme for many.
One additional question I posed: What keeps the peace?
I may have come up with conflicting answers as I ran through the list above, and I see clearly that I tend to give too much. I also erred on the side of two factors: what was best for the family, and whatever kept our household "pleasant."
Worth a read: The impact of invisible work on relationships and sanity
Compromise vs. Sacrifice
It's important to make the distinction between compromise and sacrifice. Compromise is coming to a mutually acceptable agreement; generally, both parties are giving up a piece of what they want, though one is often trading off more than the other.
In contrast, a sacrifice suggests relinquishing something altogether. It is a forfeiture of sorts. Possibly, a surrender.
Whether or not there is any emotional manipulation in the mix, relationship sacrifices are usually made willingly, as are compromises. But the power is more unevenly distributed in the former, and less the case in the latter.
Note that sacrifices are often made for practical considerations. He is offered a big job out of state, and since he makes more money, you think you need to go along. She is the one staying home with the children, so if she wants a bigger house, you feel you should eliminate the funds you set aside for a new car, because that's what seems right.
Sacrifices are part of relationships. When are they a problem?
When they are always one-sided.
Sacrifices in Marriage: Oh So Complicated
Over the years, what were routine sacrifices (of time, sleep, and personal ambitions) seemed harder for me to sustain. Some of this was the inevitable accumulation of fatigue, carrying far too much alone for far too many years – as my spouse traveled, including for pleasure, and there was no family around to help me out.
Sometimes, whatever I was giving in exchange for the elusive goal of "good for the family" placed my emotional state at risk. At other times, my health. When the sacrifices expected of me put my ability to provide for my family too close to the edge – especially as the relationship was growing rockier – I began to rethink.
And once we have children, don't we view sacrifice differently? Don't our priorities shift? Don't we more willingly sacrifice our dreams, erring on the side of guaranteeing our children theirs?
Of course, the extent to which we sacrifice depends on where we are, what we want, the nature of the relationship, our options for assistance. But often, the issue of who surrenders their needs is one of control. And once we yield control, it can be a very slippery slope. The climb back up?
Not so easy.
Need help with self confidence and communication? Check out our coaching programme.
Self-Interest: A Matter of Moderation
My story involves a man whose credo was "what's in it for me?" – my own, on the other hand, is consensus and other-oriented. I desired a harmonious household, and a quality, loving lifestyle. For me, creativity has always been an essential component in that mix. None of these elements of making others (and myself) happy are incompatible; like everything, they are a matter of degree. There are only so many pieces of our hearts we can give away. There is only so much of ourselves to go around.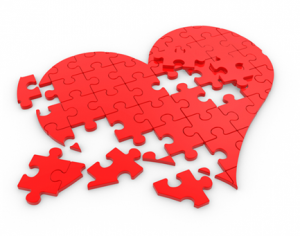 I recognize that my spouse's set of priorities didn't mean he didn't care about the family. However, when self-interest is the primary motivator in nearly every decision, with an assumption that what is good for one is automatically good for all, if the needs ignored are your needs, you will feel dismissed, belittled, and over time – angry.
I will add that I take exception to the phrase (and notion) "happy wife, happy life." I find it demeaning to both men and women, highly simplistic, and just plain dumb.
Love "Conquers All"
So where does this leave most couples? Is it a matter of sharing priorities and taking turns when someone must sacrifice what they want? Is this just about career inequity or too much of the domestic burden on one parent, or are there underlying mind games at play? In my case, was I just another "highly sensitive person" paired with a narcissist, and consequently, easy to manipulate?
As for the fantasists who insist that love conquers all, let me wish you good luck with that approach and hope for your awakening. Love is a convenient and catch-all term for more than the flush of the first year together, or the assumed unconditional approval of a partner.
Love is about affection, attraction, admiration, appreciation, deep caring and a spark that poets are inclined to capture far better than I ever could. Love also requires respect, communication, fairness and sharing. That may mean taking turns as the primary breadwinner, one sacrificing for the other for a period of time. That may mean compromise – as both give up a little because it is the right answer for the family. That may mean any number of other arrangements, at a minimum, respectful, more akin to a loving friendship.
Whatever the "normal" amount of sacrifice, at the very least it ought to be clear, our motivations even more so, and recognized by those involved
Create powerful relationships for success in business and all aspects of life with 3Plus Relationship Mastery